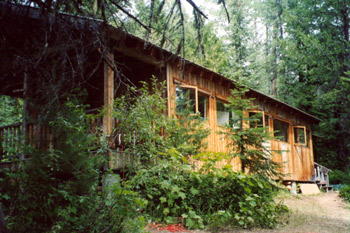 Between 1995 and 2003, the Silva Forest Foundation constructed a school complex on privately held land deep in the inland temperate rainforests of the West Kootenay region near Salmo, in southeastern British Columbia. Most of the labour was volunteered and many of the building materials were donated. Much heart and soul contributed to the creation of the school and an inspiring learning environment.
The main building is a 20 x 50 foot, post and beam classroom and kitchen complex where the indoor activities take place. Students have a beautiful view of the forest from the many windows in the building. Front and back porches provide space for breakout sessions and small group conversations.
Field activities take place on the surrounding 640 hectares (1600 acres) which contain a natural, diverse, mixed conifer and deciduous forest. Old growth forest remnants and Rest Creek are found on the forest land, providing a rich natural classroom.
The school complex also includes three cabins of 16 x 16 feet that sleep 6-7 people in bunk beds. A bath house contains three showers and three wash basins with hot and cold running water. Students find themselves in a rustic but comfortable setting, far from the distractions of the modern world.